Pengaruh Daya Ledak Otot Tungkai Terhadap Kemampuan Jump Shoot Atlet Klub Bolabasket
Fahd Mukhtarsyaf

Universitas Negeri Padang

Irfan Arifianto

Fakultas Ilmu Keolahragaan, Universitas Negeri Padang

Fahmil Haris

Fakultas Ilmu Keolahragaan, Universitas Negeri Padang
Abstract
Penelitian ini bertujuan untuk mengetahui dan mengungkapkan pengaruh Daya Ledak Otot Tungkai terhadap kemampuan jumpshot pada atlet bola basketkota Padang. Populasi penelitian ini adalah atlet bolabasket kota Padang. Pengambilan sampel dilakukan dengan   teknik purposive random sampling, sehingga jumlah sampel penelitian ini berjumlah 40 orang atlet. Teknik pengumpulan data dilakukan dengan   menggunakan tes vertical jump untuk mengukur daya ledak otot tungkai, dan speed spot shooting test untuk mengukur kemampuan  jump  shot. Pengujian hipotesis penelitian  menggunakan teknik analisis jalur. Dari hasil penelitian, dapat ditarik kesimpulan daya ledak otot tungkai secara langsung berpengaruh terhadap kemampuan jump shoot Atlet Bola Basket Kota Padang, besarnya pengaruh daya ledak otot tungkai terhadap kemampuan jump shoot melalui kekuatan otot lengan pada Atlet Bola Basket Kota Padang adalah 0,145 atau sebesar 14,5%.
Downloads
Download data is not yet available.
References
A.HamidsyahNoer.1993.IlmuPelatihanDasar.Surakarta:FKIPUNS.

Baumgatner, Measurement For Evaluation, (Iowa: Brown Publishers,1982)

Bompa, O. Tudor. 1994. Theory and Methodology of Training. Dubuque, Iowa: Hunt Publishing Company.

Dave Bellomo, Kettlebell Training For Athletes, (USA: McGraw-Hill Company, 2010)

Fardi, Adnan. 1999. Bolabasket Dasar. Fakultas Ilmu Keolahragaan: Universitas Negeri Padang.

Gray Cook, Athletic Body In Balance, (USA: Human Kinetics, 2003)

Imam Sodikoen. 1992. Olahraga Pilihan Bola Basket. Jakarta: Depdikbud Dirjen Dikti PPTK.

Kosasih, Danny. 2008. Fundamental Basketball: First Step to Win. Semarang: Karangturi Media.

Krause, JerryV. 1999. Basketball Skills and Drills. USA: Human Kinetics.

M. Sajoto, Pembinaan Kondisi Fisik Olahraga, (Jakarta: Depdikbud Dirjen Dikti PPLPTK, 1995)

Sarumpaet,A. 1992. Permainan Bola Besar.

SuharnoHP. 1986. Kepelatihan Olahraga. Yogyakarta: IKIP Yogyakarta.

Undang-Undang Sistem Keolahragaan Nasional No 3 (2005:16). Pembinaan dan Pengembangan Olahraga Prestasi Pasal 27 Ayat: 4. PT. Sinar Grafika. Wilkens, Lenny, NBA Power Conditioning, (USA: Human Kinetics,1998)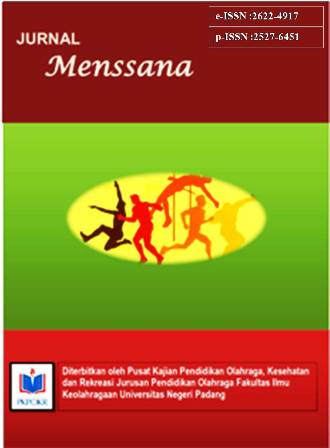 How to Cite
MUKHTARSYAF, Fahd; ARIFIANTO, Irfan; HARIS, Fahmil. Pengaruh Daya Ledak Otot Tungkai Terhadap Kemampuan Jump Shoot Atlet Klub Bolabasket.
Jurnal MensSana
, [S.l.], v. 4, n. 2, p. 179-185, nov. 2019. ISSN 2622-4917. Available at: <
http://menssana.ppj.unp.ac.id/index.php/jm/article/view/104
>. Date accessed: 29 sep. 2020.
Copyright Notice

Please find the rights and licenses in the journal MensSana: national Scientific journal Research results in the field of sports education, health and recreation. On the link