MensSana Journal collects research articles in the fields of Physical Education, Health and Recreation. The scope of articles from the Field of Physical Education in Health and Recreation that we expect is the Development of Learning Process through the results of Classroom Action research such as; Study of Physical Education Curriculum, Learning Strategies, and Methods, Development of Learning Facilities and Infrastructure, Physical Education Technology and Health and Recreation. The scope of health in MensSana Journal specializes in health in the process of teaching and learning activities Physical Education, student health, school environmental health, and personal health for physical education activities and health support components for physical education The scope of recreation MensSana Journal is concentrated in the field of physical education activities in Public. Teaching and learning activities of physical education in recreational activities that refer to improving the quality of learning, movement skills, and the development of children's basic movements.
ISSN: 2527-645X (Print) 2622-4917 (Online)
Frequency: Semiannual (2 editions per year) in May & November
Publication: Indonesian and English
Journal manager: Rika Sepriani
Abstracts and articles published in Menssana and indexed journals by: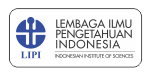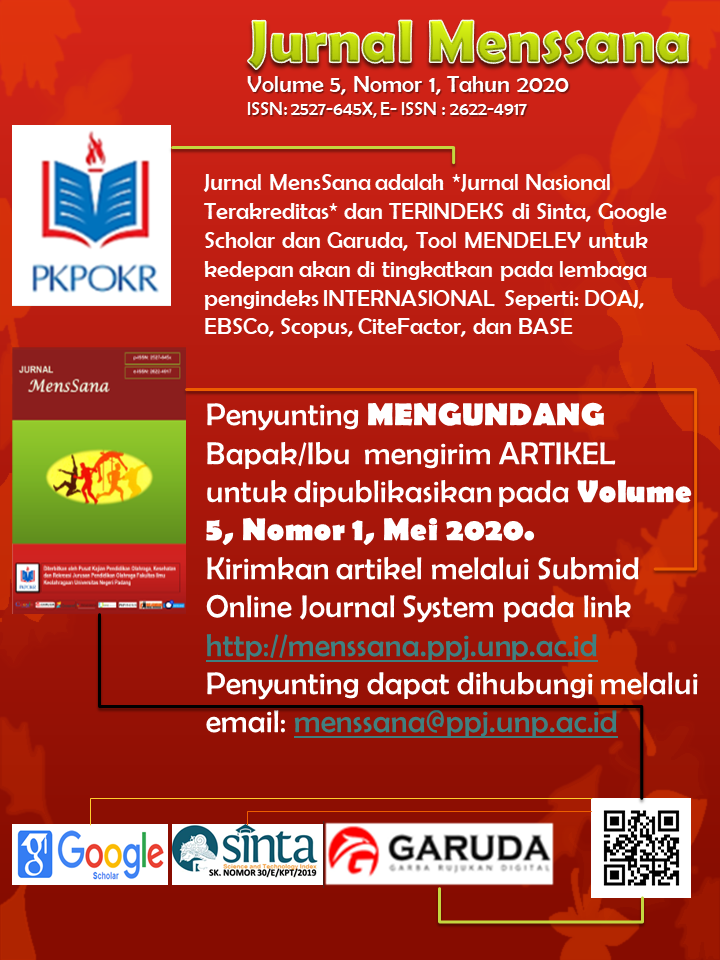 Please read this guide carefully. Every text sent to the journal editorial office must follow the visit schedule. If the manuscript does not comply with the author's rules or the manuscript is written in a different format, the article will CAUS before further review. Only manuscripts submitted that meet the journal format will be further processed. The author is invited to submit articles that have never been published before and have never been published elsewhere
Current Issue
Vol 4 No 2 (2019): Jurnal MensSana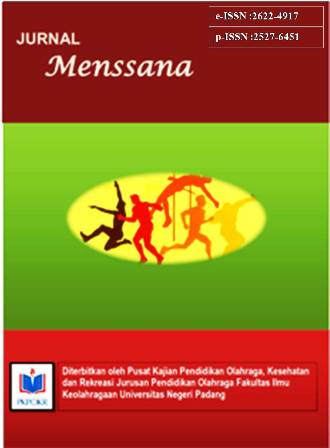 The MensSana Journal is a collection of research articles in the areas of Physical Education, Health and Recreation, and Development of Physical Education Teaching and Learning Processes through Classroom Action Research from the following fields of study: Curriculum Study, Learning Strategies, Learning Methods, Means and Targeting, Micro Teer Teaching, and Health Physical Education and Recreation Technology. Authors are invited to submit articles that were never approved before and were not approved elsewhere.
View All Issues