Pengaruh Koordinasi Mata-Tangan, Body Mass Index dan Jenis Kelamin terhadap Kemampuan Objek Kontrol Siswa PAUD
Koordinasi Mata-Tangan, Body Mass Index dan Jenis Kelamin terhadap Kemampuan Objek Kontrol
Syahrial Bakhtiar

Universitas Negeri Padang

Zainul Johor

Universitas Negeri Padang

Akli Anwari Pulungan

Universitas Negeri Padang

Oktarifaldi Oktarifaldi

Fakultas Ilmu Keolahraga, Universitas Negeri Padang

Risky Syahputra

Fakultas Ilmu Keolahraga, Universitas Negeri Padang

Lucy Pratama Putri

Fakultas Ilmu Keolahraga, Universitas Negeri Padang
Abstract
Berdasarkan studi awal, masalah dalam penelitian ini adalah kemampuan objek kontrol siswa PAUD di Kota Pariaman yang masih rendah. Hal ini diduga disebabkan oleh banyak factor, penulis menduga beberapa factor yang berpengaruh adalah koordinasi mata-tangan, body mass index dan jenis kelamin siswa. Penelitian ini bertujuan untuk melihat pengaruh koordinasi mata tangan, body mass index dan jenis kelamin terhadap  kemampuan objek kontrol anak.  Populasi dalam penelitian ini adalah siswa PAUD di Kota Pariaman. Teknik pengambilan sampel secara purposive sampling yang berjumlah 95 anak. Instrumen yang digunakan untuk memperoleh data mengenai koordinasi mata tangan siswa adalah dengan tes M-ABC, body mas index dengan antropometri, jenis kelamin dan kemampuan objek kontrol dengan instrument Test of Gross Motor Skill Second Edition (TGMD-2). Berdasarkan hasil penelitian yang dilakukan terdapat pengaruh koordinasi mata tangan, body mass index dan gender terhadap kemampuan objek kontrol siswa dengan nilai signifikan (Sig) sebesar 0,006 lebih kecil dari probabilitas 0,05 dan nilai regresi Y= 18.11+0.280X1+0.093X2+0.265X3. Hasil penelitian ini memperlihatkan bahwa siswa PAUD di Kota Pariaman dipengaruhi oleh koordinasi mata tangan, body mass index dan gender yang mereka miliki. Semakin baik kriteria koordinasi mata-tangan, body mass index yang dimiliki serta gender akan semakin baik pula kemampuan objek kontrol siswa tersebut.
Downloads
Download data is not yet available.
References
Altunsöz, I. H., & Goodway, J. D. (2016). skipping to motor competence: the influence of project successful kinesthetic instruction for preschoolers on motor competence of disadvantaged preschoolers. Physical Education and Sport Pedagogy. https://doi.org/10.1080/17408989.2015.1017453

Bakhtiar, S. (2014). STRATEGI PEMBELAJARAN, LOKASI SEKOLAH, DAN KEMAMPUAN GERAK DASAR SISWA SEKOLAH DASAR. Jurnal Ilmu Pendidikan. https://doi.org/10.17977/jip.v20i2.4608

Bakhtiar, S. (2015). Merancang pembelajaran gerak dasar anak. In Merancang Pembelajaran Gerak Dasar Anak.

Bakhtiar, S., & Famelia, R. (2018). Institute Role of Teachers' Education in Improving the Standard of Development Achievement Rate and Standard of Teacher and Education Personnel of Early Childhood Education. https://doi.org/10.2991/icece-17.2018.20

Bakhtiar, S., Johor, Zainul., Oktarifaldi & Putri, LP. (2019). Implementation of Learning and Fundamental Measurement of Early Childhood Motor Skills for PAUD Teachers Padang Panjang City. Jurnal Humanities. https://doi.org/10.24036/jha.v1i1.2

Bompa, T. O., & Haff, G. G. (2009). Periodization: Theory and Methodology of Training. In Champaign, Ill. : Human Kinetics;

Ghozali, I. (2018). Aplikasi Analisis Multivariate dengan Program IBM SPSS 25.

Haywood Nancy, K. M. G. (2005). Life span motor development., 4th ed. (2005) Life Span Motor Development Xvii, 326 Pp Champaign, IL, US: Human Kinetics; US.

Logan, S. W., Robinson, L. E., Wilson, A. E., & Lucas, W. A. (2012). Getting the fundamentals of movement: A meta-analysis of the effectiveness of motor skill interventions in children. Child: Care, Health, and Development. https://doi.org/10.1111/j.1365-2214.2011.01307.x

Lubans, D. R., Morgan, P. J., Cliff, D. P., Barnett, L. M., & Okely, A. D. (2010). Fundamental Movement Skills in Children and Adolescents. Sports Medicine. https://doi.org/10.2165/11536850-000000000-00000

Morris, A. M., Williams, J. M., Atwater, A. E., & Wilmore, J. H. (1982). Age and Sex Differences in Motor Performance of 3 Through 6-Year-Old Children. Research Quarterly for Exercise and Sport. https://doi.org/10.1080/02701367.1982.10609342

Oktarifaldi, O., Syahputra, R., Putri, L. P., & Bakhtiar, S. (2019). The Effect Of Agility, Coordination, And Balance On The Locomotor Ability Of Students Aged 7 To 10 Years. Jurnal Menssana, 4(2), 190-200. https://doi.org/10.24036/jm.v4i2.117

Sugiyono, P. D. metode penelitian kuantitatif, kualitatif,dan R&D. , Alfabeta, cv. (2016).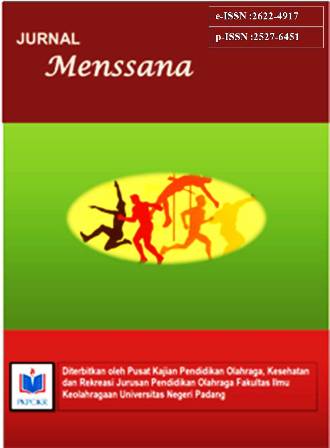 How to Cite
BAKHTIAR, Syahrial et al. Pengaruh Koordinasi Mata-Tangan, Body Mass Index dan Jenis Kelamin terhadap Kemampuan Objek Kontrol Siswa PAUD.
Jurnal MensSana
, [S.l.], v. 5, n. 1, p. 9-14, apr. 2020. ISSN 2622-4917. Available at: <
http://menssana.ppj.unp.ac.id/index.php/jm/article/view/119
>. Date accessed: 29 sep. 2020.
This work is licensed under a Creative Commons Attribution-ShareAlike 4.0 International License.
Copyright Notice

Please find the rights and licenses in the journal MensSana: national Scientific journal Research results in the field of sports education, health and recreation. On the link