Analisis Karakteristik Psikologi Atlet Atletik Berdasarkan Nomor Event Lari, Lempar, dan Lompat
Analisis Karakteristik Psikologi Atlet Atletik
adiska rani ditya candra

Universitas Negeri Semarang

Kumbul Slamet Budiyanto

Pendidikan Kepelatihan Olahraga, FIK, UNNES

Sobihin Sobihin

Pendidikan Kepelatihan Olahraga, Fakultas Ilmu Olahraga, Universitas Negeri Semarang
Abstract
Penelitian ini bertujuan untuk menganalisis karakteristik psikologi Atlet pada cabang olahraga Atletik serta membandingkan perbedaan antar nomor event yang terdiri dari nomor Lari, Lempar dan lompat. Penelitian dilakukan pada Atlet UKM Atletik Universitas Negeri Semarang dengan jumlah 27 Atlet Mahasiswa (11 Atlet Sprint, 6 Atlet Lari Jarak Panjang, 6 Atlet Lompat dan 6 Atlet Lempar). Instrumen penelitian yang digunakan yaitu instrumen Psychological Skill Inventory For Sport (PSIS-IR-5) Oleh Mahoney (1987) dan diadopsi dan dikembangkan pada Negara Deutch yaitu menjadi (PSIS-Youth-Cro) (Sindik et al., 2013). Hasil penelitian menyimpulkan analisis karakteristik Psikologi Atlet UKM Atletik adalah sebagai berikut Faktor yang paling dominan dari 6 faktor yang diteliti Motivasi dan Percaya diri. Motivasi paling baik ditunjukkan oleh atlet lempar dan setelah diikuti oleh atlet lompat sprit dan atlet lari jarak jauh, Sedangkan faktor percaya diri paling baik dimiliki oleh atlet lari jarak menengah diikuti alet lempar, sprint dan lompat. Tidak ditemukan perbedaan yang signifikan dari masing-masing nomor event, pada faktor Kecemasan, Persiapan Mental, Motivasi, Perhatian Tim, Konsentrasi dan Percaya Diri. Ini dapat disimpulkan bahwa, Karakteristik Psikologi Atlet Atlet dari keempat nomor event tersebut tidak memiliki peredaaan berarti.
Downloads
Download data is not yet available.
References
Candra, A. R. D., Budiyanto, K. S., & Sobihin. (2019). Psychological Characteristics of Athletes in Athletic Students Club Universitas Negeri Semarang, 362(Acpes), 13–17. https://doi.org/10.2991/acpes-19.2019.3

Dimyati, & Hastuti, H. (2013). Karakteristik Psikologis Atlet di Pusat Pendidikan dan Latihan Pelajar ( PPLP ). Jurnal Psikologi UGM, 40(2), 143–158. Retrieved from https://text-id.123dok.com/document/y49m36rz-karakteristik-psikologis-atlet-di-pusat-pendidikan-dan-latihan-pelajar-pplp-dimyati-jurnal-psikologi-6973-27101-1-pb.html

Dosil, J. (2006a). Applied Sport Psychology : A new Perspective. In J. Dosil (Ed.), The sport Psychologist's Handbook A guide for Sport Specific Performance Enhamcement (pp. 3–18). Retrieved from https://eeas.europa.eu/headquarters/headquarters-homepage/8988/administrative-information-on-tenders_en

Dosil, J. (2006b). The Sport Psychologist's Handbook. (J. Dosil, Ed.), The Sport Psychologist's Handbook. Southern Gate, Chichester, Westr Sussex: John Wiley & Sons Inc. https://doi.org/10.1002/9780470713174

Durand-Bush, N., & Salmela, J. H. (2002). The development and maintenance of expert athletic performance: Perceptions of world and olympic champions. Journal of Applied Sport Psychology, 14(3), 154–171. https://doi.org/10.1080/10413200290103473

Galluci, N. T. (2014). SPORT PSYCHOLOGY Performance Enhancement, Performance Inhibition, Individuals and Teams (Second Edi). New York: Psychology Press 2008.

Gould, D., Dieffenbach, K., & Moffett, A. (2002). Psychological characteristics and their development in Olympic champions. Journal of Applied Sport Psychology, 14(3), 172–204. https://doi.org/10.1080/10413200290103482

Mahoney, M. J., Gabriel, T. J., & Perkins, T. S. (1988). Applied Rese. Psychology, 1, 1–12.

Maksum, A. (2007). Kualitas Pribadi Atlet: Kunci Keberhasilan Meraih Prestasi Tinggi. Anima, Indonesian Psychological Journal, 22(2), 108–115.

Mirzaei, A., Nikbakhsh, R., & Sharififar, F. (2013). The relationship between personality traits and sport performance, 3(3), 439–442. Retrieved from www.pelagiaresearchlibrary.com Pelagia

Morris, T. (2010). Psychological characteristics and talent identification in soccer. Journal of Sports Sciences, 18(9 desember 2010), 715–726. https://doi.org/10.1080/02640410050120096

Nopiyanto, Y. E., & Dimyati, D. (2018). Karakteristik psikologis atlet Sea Games Indonesia ditinjau dari jenis cabang olahraga dan jenis kelamin The psychological characteristics of Indonesian Sea Games athletes in terms of sports and sex. Jurnal Keolahragaan, 6(1), 69–76. Retrieved from http://dx.doi.org/10.21831/jk.v6i1.15010%0ACopyright

Sindik, J., Novokmet, N., & Havas-Augustin, D. (2013). The application of psychological skills inventory for sports at Croatian coaches and recreational table tennis players. Sport Science 6, 1(June 2014), 54–60.
Weinberg, R. S., & Daniel, G. (2015). Foundation of Sport and Exercise Psychology (Sixth Edit).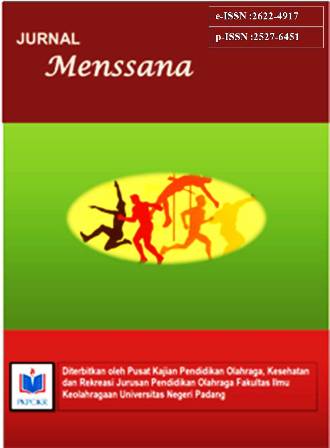 How to Cite
CANDRA, adiska rani ditya; BUDIYANTO, Kumbul Slamet; SOBIHIN, Sobihin. Analisis Karakteristik Psikologi Atlet Atletik Berdasarkan Nomor Event Lari, Lempar, dan Lompat.
Jurnal MensSana
, [S.l.], v. 5, n. 1, p. 15-25, apr. 2020. ISSN 2622-4917. Available at: <
http://menssana.ppj.unp.ac.id/index.php/jm/article/view/128
>. Date accessed: 29 sep. 2020.
This work is licensed under a Creative Commons Attribution-ShareAlike 4.0 International License.
Copyright Notice

Please find the rights and licenses in the journal MensSana: national Scientific journal Research results in the field of sports education, health and recreation. On the link