Obstacles influencing The obstacles influencing sports activities in Saudi universities
Sports activities; Obstacles influencing; Saudi universities.
SAMEER MOHAMMED SAYYD

PhD student
Abstract
Objectives: The aim of this study to evaluate the sports activities in Saudi universities from the students perspective also, to investigate the obstacles influencing sports activities in Saudi universities.
Methods: This study is used the descriptive approach to study 114 respondents were randomly selected from in some Saudi university. The questionnaire was used study comprises five questions. An online questionnaire was designed by Google forms and was distributed by email and WhatsApp.
Results: The study revealed some obstacles that hinder the success of sports activities in Saudi Arabia universities for males are: Sports injuries, Lack of facilities, Lack of tools, Non updated programs, admission conditions are not clear, Lack of student interest to do sport, Lack of time in university time table to do sport, There is no scheduled for the sport activities in Saudi universities, lack of fund and lack of human recourse.
Conclusion: Can see the importance to investigate the most important factors to enhance sports activities. As well most of the university's students agree with the important need to enhance the sports activities. In addition, all of the obstacles consider by the student are easy to solve if universities implement important the factors.
Downloads
Download data is not yet available.
References
Al-hazzaa, H.M., 2018. Physical inactivity in Saudi Arabia revisited: A systematic review of inactivity prevalence and perceived barriers to active living. IJHS Journal, 12(6), pp.50–64. Available at: http://www.ncbi.nlm.nih.gov/pubmed/30534044%0Ahttp://www.pubmedcentral.nih.gov/articlerender.fcgi?artid=PMC6257875.

Alsahli, m., 2016. Benefits and barriers to physical activity among Saudi female university students in the kingdom of saudi arabia and the united states. ммит, (December), p.2016.

Al Anizi, N., 2018. University Activities Management and its role in enhancing Intellectual security. Naif Arab University for Security Sciences.

Arias, Palencia, N.M. et al., 2015. Levels and patterns of objectively assessed physical activity and compliance with different public health guidelines in university students. PLoS ONE, 10(11), pp.1–15.

Castaneda, C., CHACON-BORREGO1, -VAZQUEZ1 FATIMA and ROSA Ma ALFONSO-ROSA2, J.D.P.-C., 2018. Sport and exercise at university: How much do students really do? Journal of Human Sport and Exercise - 2018 - Spring Conferences of Sports Science, 13(April), pp.26–28. Available at: http://hdl.handle.net/10045/77489.

Cerar, K., Kondrič, M., Ochiana, N. and Sindik, J., 2017. Exercise Participation Motives and Engaging In Sports Activity among University of Ljubljana Students. Open Access Macedonian Journal of Medical Sciences, 5(6), p.794. Available at: https://www.id-press.eu/mjms/article/view/oamjms.2017.159.

Clemente, F.M. et al., 2016. Physical activity patterns in university students: Do they follow the public health guidelines? PLoS ONE, 11(3), pp.1–11. Available at: http://dx.doi.org/10.1371/journal.pone.0152516.

Coe, D.P. et al., 2006. Effect of physical education and activity levels on academic achievement in children. Medicine and Science in Sports and Exercise, 38(8), pp.1515–1519.

Fortes, P.C., Rodrigues, G. and Tchantchane, A., 2010. Investigation of Academic and Athletic Motivation on Academic Performance Among University Students. International Journal of Trade, Economics and Finance, 1(4), pp.367–372. Available at: http://www.ijtef.org/index.php?m=content&c=index&a=show&catid=25&id=318.

El Gilany, A.H., Badawi, K., El Khawaga, G. and Awadalla, N., 2011. Physical activity profile of students in Mansoura University, Egypt. Eastern Mediterranean Health Journal, 17(08), pp.694–702. Available at: http://applications.emro.who.int/emhj/V17/08/17_8_2011_0694_0702.pdf.

Jifri, A., 2013. Attitudes of King Abdul-Aziz University Students in Saudi Arabia towards Physical Activity. Najah Journal, pp.1–24.

Lee, I.M. et al., 2012. Effect of physical inactivity on major non-communicable diseases worldwide: An analysis of burden of disease and life expectancy. The Lancet, 380(9838), pp.219–229.

Management, S., 2013. Obstacles Face Physical Education At Schools in Al Madenah Al Munawarah - Ksa. , 9(13), pp.284–300.

Mohammed, P.A.S., 2016. vision 2030 of Saudi Arabia government. , (April).

Di Palma, D., Varriale, L., Briganti, P. and Tafuri, D., 2019. The importance of sport activities to stimulate an educational management of students with SLD. Journal of Human Sport and Exercise - 2019 - Autumn Conferences of Sports Science, 14(November), pp.2–3. Available at: http://hdl.handle.net/10045/85848.

Sayyd, Sameer.Mohammed., Zainuddin, Z.A. Bin, Ghan, D.Z.B.A. and Altowerqi, Z.M., 2020. Sports activities for undergraduate students in Saudi Arabia universities: A systematic literature review. International Journal of Human Movement and Sports Sciences, 8(1), pp.1–16.

Zheng, R., 2018. Analysis of Lifelong Physical Education Thought and Physical Education Teaching Reform in Colleges and Universities. , 220(Eemt), pp.612–616.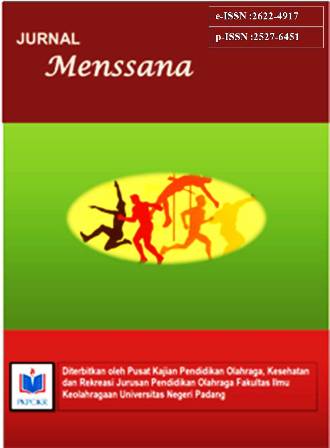 This work is licensed under a Creative Commons Attribution-ShareAlike 4.0 International License.
Copyright Notice

Please find the rights and licenses in the journal MensSana: national Scientific journal Research results in the field of sports education, health and recreation. On the link