Kesadaran dan Keterlibatan Orang Tua Dalam Mendukung Aktivitas Fisik Anak Usia Dini di Kota Cilegon Provinsi Banten
Rian Triprayogo

Universitas Sultan Ageng Tirtayasa

Sendy Mohamad Anugrah

Fakultas Ilmu Keolahragaan Universitas Sultan Ageng Tirtayasa

Bimo Alexander

Fakultas Ilmu Keolahragaan Universitas Sultan Ageng Tirtayasa
Keywords:
Aktivitas Fisik, Tumbuh Kembang Anak
Abstract
Sebagai orang tua kita menginginkan agar anak tumbuh dengan baik. Namun demikian orang tua kurang memahami untuk mencapai anak tumbuh dengan baik dan sehat memerlukan aktivitas fisik. Orang tua saat ini lebih memberikan gawai kepada anaknya supaya tenang. Hal ini membuat anak lebih banyak duduk bermain gawai dan cenderung kurang melakukan aktivitas fisik. Perlu kesadaran dan keterlibatan orang tua untuk mendukung anak supaya memiliki kebiasaan melakukan aktivitas fisik. Oleh karena itu perlu diketahui tingkat kesadaran dan keterlibatan orang tua dalam mendukung aktivitas fisik anaknya. Subjek dalam penelitian ini adalah orang tua siswa SD Negeri kelas 1 di Kota Cilegon Provinsi Banten. Instrumen penelitian yang digunakan adalah kuesioner berupa angket tertutup yang disajikan dalam bentuk sedemikian rupa sehingga responden hanya mengisi dengan cara memberikan check list. Para orang tua memiliki pemahaman dan kesadaran bahwa aktivitas fisik baik untuk anak-anak mereka dengan tingkat kepercayaan lebih dari 85%. Sedangkan keterlibatan orang tua terhadap aktivitas anaknya meiliki tingkat kepercayaan diatas 60%. Para orang tua memliki kesadaran yang tinggi tentang pentingnya aktivitas fisik bagi anaknya dan keterlibatan orang tua terhadap aktivitas fisik anaknya relatif tinggi, namun demikian ada beberapa keterlibatan orang tua yang relatif rendah ketika mendorong anaknya untuk ikut klub olahraga.
Downloads
Download data is not yet available.
References
Allender, Steven, Gill Cowburn, and Charlie Foster. 2006. "Understanding Participation in Sport and Physical Activity among Children and Adults: A Review of Qualitative Studies." Health Education Research 21(6):826–35. doi: 10.1093/her/cyl063.
Amini, Mukti. 2015. "Profil Keterlibatan Orang Tua Dalam Pendidikan Anak Usia TK." Jurnal Ilmiah VISI PPTK PAUDNI 10(1):9–20.
Ardern, Clare L., Philip Glasgow, Anthony Schneiders, Erik Witvrouw, Benjamin Clarsen, Ann Cools, Boris Gojanovic, Steffan Griffin, Karim M. Khan, Håvard Moksnes, Stephen A. Mutch, Nicola Phillips, Gustaaf Reurink, Robin Sadler, Karin Grävare Silbernagel, Kristian Thorborg, Arnlaug Wangensteen, Kevin E. Wilk, and Mario Bizzini. 2016. "2016 Consensus Statement on Return to Sport from the First World Congress in Sports Physical Therapy, Bern." British Journal of Sports Medicine 50(14):853–64. doi: 10.1136/bjsports-2016-096278.
Biotteau, Maëlle, Jérémy Danna, Éloïse Baudou, Frédéric Puyjarinet, Jean Luc Velay, Jean Michel Albaret, and Yves Chaix. 2019. "Developmental Coordination Disorder and Dysgraphia: Signs and Symptoms, Diagnosis, and Rehabilitation." Neuropsychiatric Disease and Treatment 15:1873–85. doi: 10.2147/NDT.S120514.
Burns, Ryan D., Taylor E. Colotti, Christopher D. Pfledderer, You Fu, Yang Bai, and Wonwoo Byun. 2020. "Familial Factors Associating with Youth Physical Activity Using a National Sample." Children 7(7):79. doi: 10.3390/children7070079.
Cope, Elise C., Elizabeth A. Lamarca, Patrick K. Monari, Lyra B. Olson, Susana Martinez, Anna D. Zych, Nicole J. Katchur, and Elizabeth Gould. 2018. "Microglia Play an Active Role in Obesity-Associated Cognitive Decline." Journal of Neuroscience 38(41):8889–8904. doi: 10.1523/JNEUROSCI.0789-18.2018.
Hasanah, Uswatun. 2016. "Pengembangan Kemampuan Fisik Motorik Melalui Permainan Tradisional Bagi Anak Usia Dini." Jurnal Pendidikan Anak 5(1):717–33. doi: 10.21831/jpa.v5i1.12368.
Kooijman, Marjolein N., Claudia J. Kruithof, Cornelia M. van Duijn, Liesbeth Duijts, Oscar H. Franco, Marinus H. van IJzendoorn, Johan C. de Jongste, Caroline C. W. Klaver, Aad van der Lugt, Johan P. Mackenbach, Henriëtte A. Moll, Robin P. Peeters, Hein Raat, Edmond H. H. M. Rings, Fernando Rivadeneira, Marc P. van der Schroeff, Eric A. P. Steegers, Henning Tiemeier, André G. Uitterlinden, Frank C. Verhulst, Eppo Wolvius, Janine F. Felix, and Vincent W. V. Jaddoe. 2016. "The Generation R Study: Design and Cohort Update 2017." European Journal of Epidemiology 31(12):1243–64. doi: 10.1007/s10654-016-0224-9.
Lindsay Smith, Gabrielle, Lauren Banting, Rochelle Eime, Grant O'Sullivan, and Jannique G. Z. van Uffelen. 2017. "The Association between Social Support and Physical Activity in Older Adults: A Systematic Review." International Journal of Behavioral Nutrition and Physical Activity 14(1):1–21. doi: 10.1186/s12966-017-0509-8.
Moore, Sarah A., Guy Faulkner, Ryan E. Rhodes, Mariana Brussoni, Tala Chulak-Bozzer, Leah J. Ferguson, Raktim Mitra, Norm O'Reilly, John C. Spence, Leigh M. Vanderloo, and Mark S. Tremblay. 2020. "Impact of the COVID-19 Virus Outbreak on Movement and Play Behaviours of Canadian Children and Youth: A National Survey." International Journal of Behavioral Nutrition and Physical Activity 17(1):1–11. doi: 10.1186/s12966-020-00987-8.
Pierce, Scott, Daniel Gould, and Martin Camiré. 2017. "Definition and Model of Life Skills Transfer." International Review of Sport and Exercise Psychology 10(1):186–211. doi: 10.1080/1750984X.2016.1199727.
Pyper, Evelyn, Daniel Harrington, and Heather Manson. 2016. "The Impact of Different Types of Parental Support Behaviours on Child Physical Activity, Healthy Eating, and Screen Time: A Cross-Sectional Study." BMC Public Health 16(1):1–15. doi: 10.1186/s12889-016-3245-0.
Rhodes, Ryan E., Michelle D. Guerrero, Leigh M. Vanderloo, Kheana Barbeau, Kheana Barbeau, Catherine S. Birken, Jean Philippe Chaput, Guy Faulkner, Ian Janssen, Sheri Madigan, Louise C. Mâsse, Tara Leigh McHugh, Megan Perdew, Kelly Stone, Jacob Shelley, Nora Spinks, Katherine A. Tamminen, Jennifer R. Tomasone, Helen Ward, Frank Welsh, and Mark S. Tremblay. 2020. "Development of a Consensus Statement on the Role of the Family in the Physical Activity, Sedentary, and Sleep Behaviours of Children and Youth." International Journal of Behavioral Nutrition and Physical Activity 17(1):1–31. doi: 10.1186/s12966-020-00973-0.
Rombemba, Finna R. 2017. "Sikap Guru Mengenai Intervensi Aktivitas Fisik Dan Diet Pada Siswa Obesitas Di Sekolah Dasar." Jurnal Kedokteran Komunitas Dan Tropik 5(1):121–26.
Tannehill, Deborah, Ann MacPhail, Julia Walsh, and Catherine Woods. 2015. "What Young People Say about Physical Activity: The Children's Sport Participation and Physical Activity (CSPPA) Study." Sport, Education and Society 20(4):442–62. doi: 10.1080/13573322.2013.784863.
Vandermeerschen, Hanne, Steven Vos, and Jeroen Scheerder. 2015. "Who's Joining the Club? Participation of Socially Vulnerable Children and Adolescents in Club-Organised Sports." Sport, Education and Society 20(8):941–58. doi: 10.1080/13573322.2013.856293.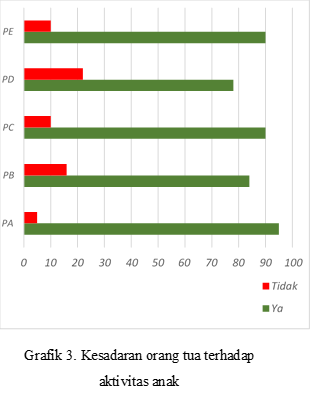 How to Cite
[1]
R. Triprayogo, S. Anugrah, and B. Alexander, "Kesadaran dan Keterlibatan Orang Tua Dalam Mendukung Aktivitas Fisik Anak Usia Dini di Kota Cilegon Provinsi Banten", jm, vol. 6, no. 2, pp. 118-125, Nov. 2021.
Copyright (c) 2021 Jurnal MensSana
This work is licensed under a Creative Commons Attribution-ShareAlike 4.0 International License.