Kepribadian Atlet PON Bengkulu Menuju PON XX Papua 2021
yahya eko nopiyanto

Universitas Bengkulu

septian raibowo

gilang ugo prabowo

Novriansyah Novriansyah
Keywords:
personality, atheletes, bengkulu, pon, papua
Abstract
The purpose of this research was to determine the personality of Bengkulu athletes who will compete in PON Papus 2021. The aspects of personality studied consist of achievement, adaptability, competitiveness, conscientiousness, visualization, intuition, goal setting, managing pressure, self efficacy, fear of failure control, flow, management, emotions, self-talk, self awareness, ethics, empathy, relationships, aggressiveness, power, impressions managements. This research method is quantitative descriptive. The subjects of this research were all Bengkulu athletes who will participate in PON XX Papua 2021. The instrument  used in this research was sport personality questionnaire (SPQ-20). The data analysis technique in this study used quantitative precentage. The results revealed that of the 21 aspects studied there were 13 personality aspects included in the study high category and 8 aspects fall into the medium category. The results of the research were expected to be able to become a reference and description of the athlete's personality. Recommended for athletes who were still in the moderate category so that they can be trained properly so that they can maximize psychological skills, especially personality.
Downloads
Download data is not yet available.
References
Algani, P. W., Yuniardi, M. S., & Masturah, A. N. (2018). Mental Toughness dan Competitive Anxiety pada Atlet Bola Voli. Jurnal Ilmiah Psikologi Terapan, 6(1), 93–101.
Allen, M. S., Greenlees, I., & Jones, M. (2013). Personality in sport: A comprehensive review. International Review of Sport and Exercise Psychology, 6(1), 184–208.
Azwar. (2012). Metode Penelitian. Pustaka Pelajar.
Djaali. (2011). Psikologi Pendidikan. Bumi Aksara.
Dongoran, M., Nopiyanto, Y., Saputro, D., & Nugroho, A. (2019). Comparison of Psychological Skills of Pencak Silat and Boxing Athletes (Study on Indonesian Training Camp athletes). 2nd International Conference on Social Science, 383(Icss), 124–128. https://doi.org/10.2991/icss-19.2019.210
Habib, M. B., Waris, S., & Afzal, S. (2020). Personality traits predict in sports performance among university athletes. The Spark, 4(1), 149–159. http://journal.suit.edu.pk/index.php/spark/article/view/471/432
Ilyasi, G., & Salehian, M. H. (2011). Comparison of personality traits between individual and team athletes. Middle-East Journal of Scientific Research, 9(4), 527–530.
Jahili, & Fatameh. (2011). Comparison of Personality Dimension. Journal of Annals Biological Research, 2(6), 554–560.
Khan, B., Ahmed, A., & Abid, G. (2016). Using the "Big-Five"-for assessing personality traits of the champions: An insinuation for the sports industry. Pakistan Journal of Commerce and Social Sciences (PJCSS), 10(1), 175–191.
Kuspriyani, D. S., & Setyawati, H. (2014). Survei Motivasi Prestasi Atlet Klub Bulutungkis Pendowo. Journal of Physical Education , Health and Sport 1(2), 108–114.
Maksum, A. (2016). Kualitas Pribadi Atlet: Kunci Keberhasilan Meraih Prestasi Tinggi. Fakultas Ilmu Keolahragaan, Universitas Negeri Surabaya, 1–8.
Mollazadeh, M., Gharayagh, H, G., Rostamizadeh, M., & Kateb, Y, M. (2019). Comparison of personality characteristics of athletes in team and individual sport. International Journal of Motor Control and Learning, 2(1), 2–8. http://ijmcl.com/article-1-25-en.pdf
Nanda, F. A., & Dimyati. (2019). The psychological skills of basketball athletes: Are there any differences based on the playing position? Jurnal Keolahragaan, 7(1), 74–82.
Nopiyanto, Y. E., & Dimyati, D. (2018). Karakteristik psikologis atlet Sea Games Indonesia ditinjau dari jenis cabang olahraga dan jenis kelamin. Jurnal Keolahragaan, 6(1), 69–76.
Nopiyanto, Y. E., Dimyati, D., & Dongoran, F. (2019). Karakteristik Psikologis Atlet Sea Games Indonesia Ditinjau Dari Cabang Olahraga Tim. Sporta Saintika, 4(2), 27-46.
Nopiyanto, Y. E., & Raibowo, S. (2020). Are There Difference The Psychological Characteristics Of Indonesiansea Games Athletes In Terms Of Team Sports Based On Sex ? Jurnal Sporta Saintika, 5(1), 72–80.
Novriansyah, B. N. (2019). Ekstrakurikuler bola basket : apakah shooting free throw dipengaruhi imagery dan keyakinan diri?
Patsiaouras, A., Chatzidimitriou, M., Charitonidis, K., Giota, A., & Kokaridas, D. (2017). The Relationship of personality and trait anxiety between male and female volleyball players. Annals of Applied Sport Science, 5(3), 39–47. https://doi.org/10.29252/acadpub.aassjournal.5.3.39
Pervin, L. ., & John, O. P. (2001). Personality; Theory and Reasearch. 8 ed. John Wiley & Sons, Inc.
Petito, A., Altamura, M., Iuso, S., Padalino, F. A., Sessa, F., D'Andrea, G., Margaglione, M., & Bellomo, A. (2016). The relationship between personality traits, the 5HTT polymorphisms, and the occurrence of anxiety and depressive symptoms in elite athletes. PLoS ONE, 11(6), 1–13. https://doi.org/10.1371/journal.pone.0156601
Primita, H. Y., & Wulandari, D. A. (2014). Hubungan Antara Motivasi Berprestasi Dengan Burnout Pada Atlet Bulutangkis Di Purwokerto. Psycho Idea, 12(1), 10–18.
Sohrabi. (2011). Physcological profile of athletes in contact and non-contact sports. Middle-East Journal of Scientific Research, 9(5), 638–664.
Steca, P., Baretta, D., Greco, A., D'Addario, M., & Monzani, D. (2018). Associations between personality, sports participation and athletic success. A comparison of Big Five in sporting and non-sporting adults. Personality and Individual Differences, 121(September 2017), 176–183. https://doi.org/10.1016/j.paid.2017.09.040
Velikić, D., Knežević, J., & Rodić, N. (2014). Relations of Some Personality Traits and Characteristics of Sportsmen With the Level of Sports Anxiety. Sportlogia, 10(1), 35–43. https://doi.org/10.5550/sgia.141001.en.005v
Wagiran. (2015). Metodologi Penelitian Pendidikan: Teori dan Implementasi. Yogyakarta: Deepublish.
Waleriańczyk, W., & Stolarski, M. (2020). Personality and sport performance: The role of perfectionism, Big Five traits, and anticipated performance in predicting the results of distance running competitions. Personality and Individual Differences, March, 109993. https://doi.org/10.1016/j.paid.2020.109993
Weinberg, R. ., & Gould, D. (2011). Foundation Of Sport and Exercise Psychology. Human Kinetics.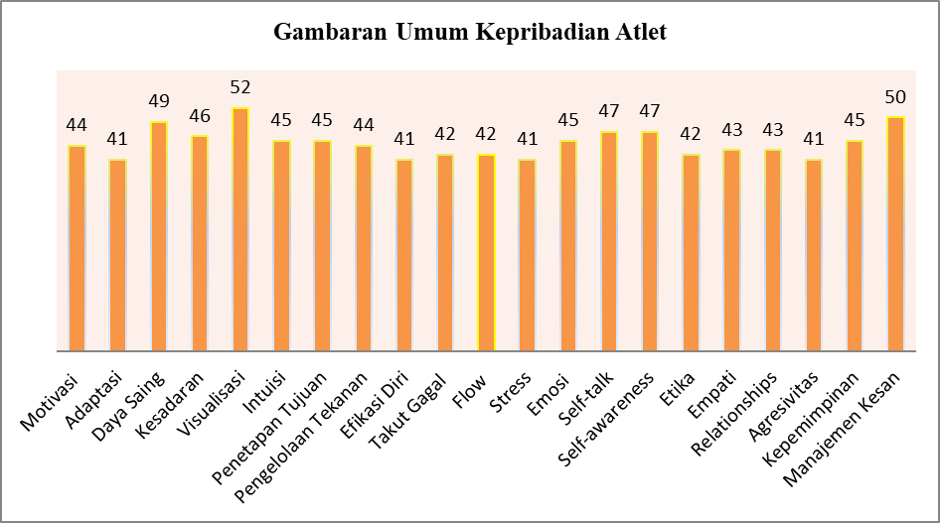 How to Cite
[1]
yahya nopiyanto, septian raibowo, gilang prabowo, and N. Novriansyah, "Kepribadian Atlet PON Bengkulu Menuju PON XX Papua 2021", jm, vol. 6, no. 2, pp. 133-142, Nov. 2021.
Copyright (c) 2021 Jurnal MensSana
This work is licensed under a Creative Commons Attribution-ShareAlike 4.0 International License.