Social Media and Sports Marketing as Correlate of Organizing Female Football In North-Central, Nigeria
Falaye Elijah Kayode

UNIVERSITY OF ILORIN

Abdulraheem Yunusa Owolabi

Abdulraheem Mulikat
Keywords:
SOCIAL MEDIA, SPORT MARKETING, FEMALE FOOTBALL CLUB, MIX MARKETING
Abstract
This study examined social media and sports marketing as correlate of organizing female football in North-central, Nigeria. Social media and sports marketing  are identified in the literature as contributing factors to development of football. Therefore, there is need for sports administrators to understand this concepts. Objective: To examine the relationship that between social media and sports marketing on organization of female football clubs. Methods: The study adopt descriptive research design of correlation type, with a sampled of 100 respondents purposively selected from three female teams within the study area. Data collected were analysed using Pearson Product Moment Correlation (PPMC). Findings: The finding revealed that a significant relationship exist between use of cell phone, online marketing and mix marketing on organization of female football teams. Conclusion: It is therefore, recommended that digitalized of sports should be adopted as marketing strategy in order to enhance effective organization of female football teams.
Downloads
Download data is not yet available.
References
Aaron, C. T & Bob, S (2015) introduction to sports marketing Routledge ltd publishers 2nd edition.
Abdulraheem, M, Abdulraheem, Y.O and Falaye E.K (2022) Dynamism of Sports marketing on organization of professional football clubs in Kwara State Nigeria. Jurnal of competitor (14) 51-60
Abdulraheem, Y.O, Adesoye, A A & Abdulraheem, Y. O, Adesoye, A A & Falaye E. K. (2017) Influence of Policy Implementation on Organization and Sport Development among staff of Kwara State Sports Council. Journal of Faculty Education, University of Port Harcourt. 25(1) 177-183.
Adem Ilokun, A (2012) Nigeria undergraduate football fan's discover visual as communication tools. International Journal of language studies. 6, 65-76.
Almotairi, M. (2014). Social media marketing (SMM) and business organizations. Journal of Service Science and Management, 368-376
Anorue, I.L, Ugboaja, S.U & Okonkwo C, P (2020) influence of online Advertising in the promotion of Nigeria Professional Football League (NPFL) International Journal of New Economics and Social Sciences. II (1) 231-246.
Aribamikan, C, G, Fajemibola, N. O, Dada, S. O & Agubiade, R. O (2018). The availability of information and Communication Technology for Sports Administration in Nigeria. Journal of Nigeria Association for Physical Health Education Sports and Dance. 8 (1) 64-71.
Awoma, C.I (2013) Policy Implementation as promoter of sports development in Edo Nigerian journal of Health and Kinesiology. Department of Physical Education. 9, 156-161.
Charumbira, L.T (2014) The effectiveness of sports marketing strategies used by Zimbabwean collegiate sports federation. International journal of marketing and business communication (3) 66-75
Chelladturai, T. N. (2013). Social media in sports marketing. Scottsdale, AZ: Holocomb Hathaway.
Danjuma .M .M (2017). Administrative determinants of students' sports participation in Nigeria. Published by Department of Human Kinetics and Health Educatio, Adekunle Ajasin University, Akungba-Akoko, Nigeria.
De Beer, L & Stander, F (2016). For the like of the game: assessing the role of social media engagement in football consumer outcomes. African Journal of Hospitability Tourism and Leisure. 5 (2) 1-14
Forbes media, (2014) The worlds most valuable sport brands. By Jayson Demurs. Retrieved from http://www.forbes.com retrieved 06-07-2019
Hussain, S.B (2015) The Impact of Social Media within the Sporting Industry. Problems and perspective for in Management. Journal of society for sports management. 4, 223-229.
Jobber, D & Chadwick, F. E (2012) Principles and practices of marketing (7th Ed) Newyork, McGrow Hill Education.
Kietzmann, J.C. (2013). Bittersweet! Understanding and Managing and Managing Electronic Word of Mouth. Journal of Public Affairs, 146-159.
Kotler, P. (2016). Marketing Management. Pearson Education. (15th global ed.) Harlow: Pearson Education Limited.
Kuzma, J. Bell, V & Logue, C (2014) A study of the use of social media marketing in football industry. Journal of Emerging Trends in Computing and Information Science 5 (10) 728 -738.
Maduanusi, H.C, Orunabeka, T.T & Elendu, I.C (2020) Sports price and promotion management strategies among football club operators in South-South Nigeria. British journal of marketing studies. (8) 68-78.
Mojtaba, M.B, M & Ali, D (2018) The effects of 7p marketing mix components on sporting goods customer satisfaction. International journal of Business and managing invention.
Momoh, D, M & Olalusi, M .O (2020) The place of Social Media and its impact on Sport marketing. Journal of Human Kinetics and Sports Science. 4 (1) 47-56.
Omoyza, I & Agwu, E. (2016) Effectiveness of Social Media Networks as a strategic tool for organizational marketing management. Journal of internet Banking and Commerce. 21 (2) 1-19
Smith, ACT & Stewart B (2015) introduction to sports marketing. New york. Routledge.
Social Media Examiner (2015) cricket all stars rebranding. Retrieved from http://www.ospncr.info.com 20-7-2019.
Srinivasaraju B.J (2012) Sports sociology: New Delhi Sports Publication
Victor, U. E, Mary Nneka, N.C, Okoro, C & Eyaemaidara, E. (2021). Social Media Addiction and Time Management Skills of University Students in Akwa Ibom State, Nigeria. Global Journal of Social Science Studies. 7, (1) 24-34.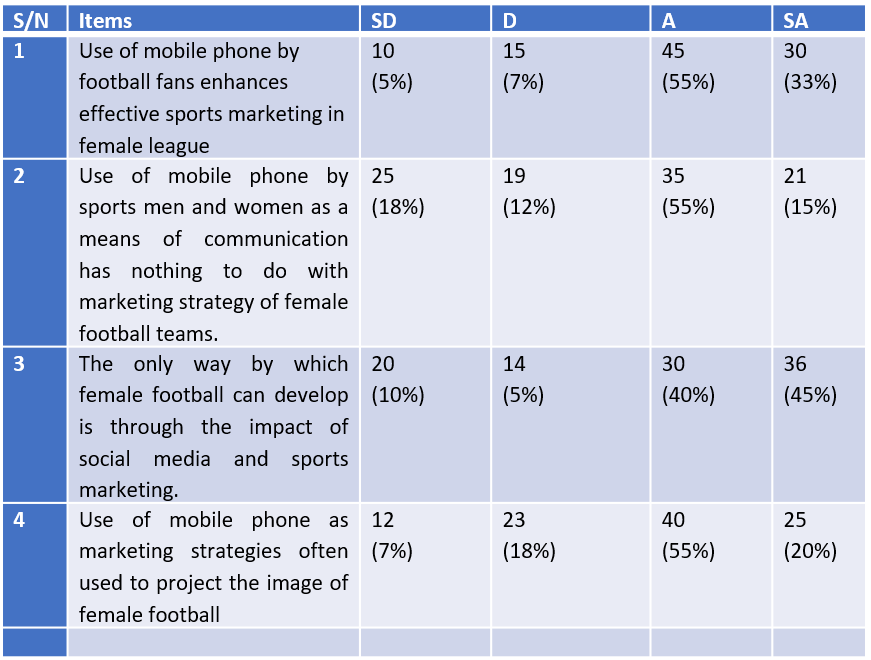 How to Cite
[1]
F. Kayode, A. Owolabi, and A. Mulikat, "Social Media and Sports Marketing as Correlate of Organizing Female Football In North-Central, Nigeria", jm, vol. 7, no. 1, pp. 91-98, Sep. 2022.
Copyright (c) 2022 Jurnal MensSana
This work is licensed under a Creative Commons Attribution-ShareAlike 4.0 International License.